LT3 Newsletter 2023
2022 has been a great year for language technology, a lot of progress has been made in the field and the broader public is starting to discover the power of LLMs (Large Language Models), thank you
ChatGPT
;)
Also at LT3 we have had a great year and want to share some highlights with you!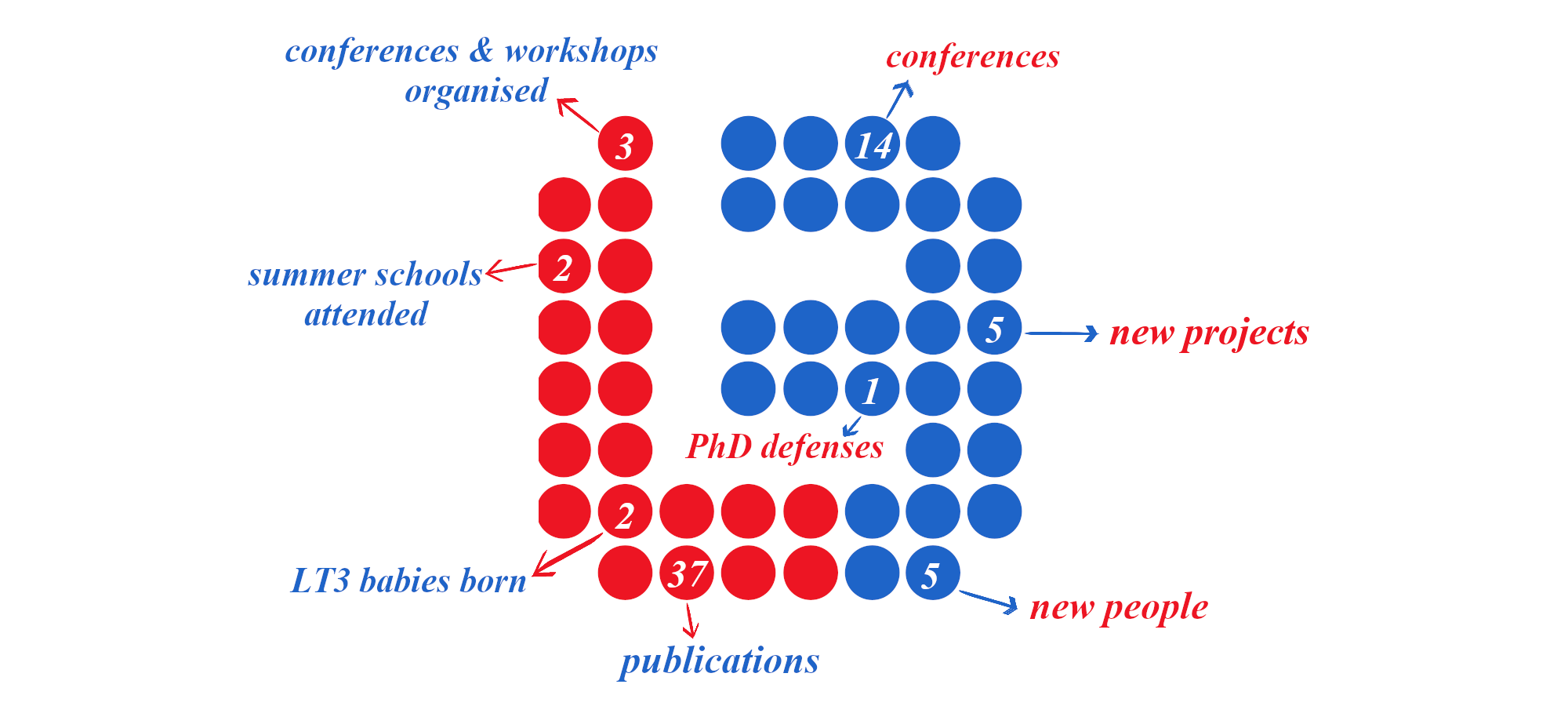 Overview 2022
LT3 Research Areas & Projects
With the launch of these projects, we were able to strengthen our team with two new PhD students (Quanqi and Serafina), continue to work with postdoctoral researcher Bram and welcome Paola as a new postdoc. On top of that, PhD students Tess and Amaury are now also affiliated with the team.
PhD Defenses
At the end of last year, Luna successfully defended her PhD on emotion analysis!
As usual, this occassion did not go by unnoticed and we created a gift to celebrate both her
academic
and
musical
accomplishments.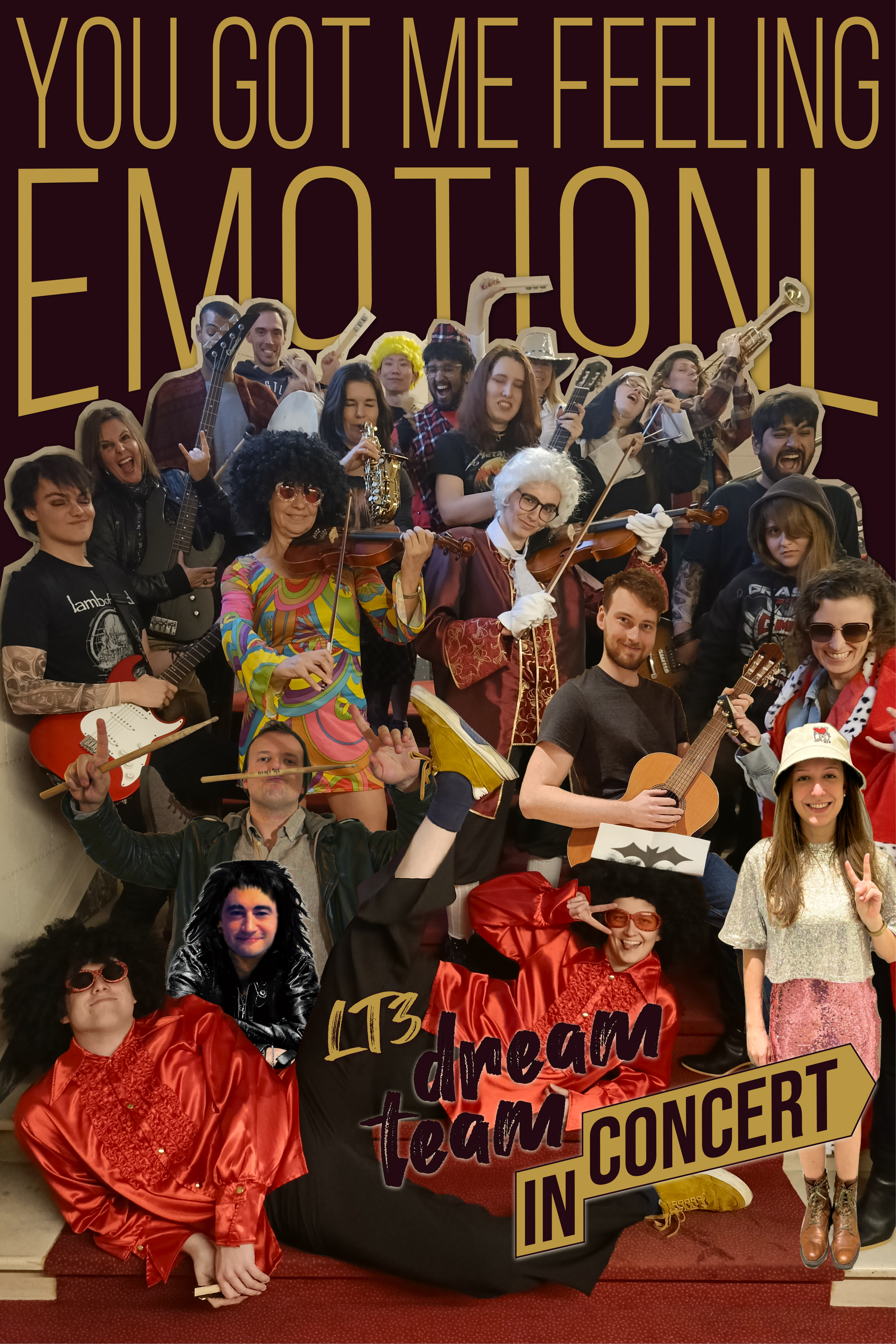 Conference Participation and Publications
During 2022 conferences gradually moved from being fully online to in-person or hybrid editions, which made presenting our work at top NLP conferences and workshops a lot more exciting ;)
Here is an overview of all the conferences and workshops where LT3 researchers presented their latest work: the WASSA and CONSTRAINT workshops at ACL 2022, CLIN32, EAMT2022, LREC2022 (and workshops TERM21, NLPerspectives and SIGUL), NITS, the EARLI SIG Writing conference, SemEval 2022, TALN 2022, EUROCALL 2022, SEPLN 2022, LitMT symposium, CLARIN2022, COLING 2022 (and workshops CRAC and W-NUT), the Workshop Repetition and Ritual, Text and Edition, Challenges and Solutions, workshops CASE, MRL and TSAR-2022 at EMNLP2022, the NLP4CALL workshop and the 6th Linghentian Doctorials.
Moreover, LT3 was also a co-organiser of the 13th WASSA workshop at ACL2022 and successfully organised the EAMT2022 conference together with CrossLang. Thanks to EAMT2022 we were able to attract 110 participants from all over the globe to the lovely city of Ghent. On the occasion of Luna De Bruyne's PhD defence, the workshop Feeling EmotioNL was organised offering different expert views on the study of emotion.
Awards & Achievements by LT3 Team
Jasper has been elected as the secretary of EUROCALL's CorpusCALL SIG.
Els her FWO junior project "Argumentation mining of political social media text" has been granted → keep a close eye on the News section during the summer for a new PhD student vacancy.
Lieve was involved in a BOF BAS project where funding was received to buy an EEG.
Three LT3 colleagues received funding to work at:

ASCoR. From March till May Luna visited Amsterdam (The Netherlands) to work together with professor Toni van der Meer on emotion detection for Dutch crisis communication.
Unbabel. From September till December Arda went to Lisbon (Portugal) to join the AI Research Team and collaborate with professor André F.T. Martins to transfer knowledge about domain adaptation for MT and on integrating fuzzy matches into quality estimation for MT.
IMS. From September-December Sofie joined the IMS group at Stuttgart (Germany) to work together with PD Dr Roman Klinger on jointly predicting emotions and demographics in text.

We are also very happy to announce that various LT3 colleagues managed to take on new challenges in 2022.

As of September 2022 Joke has been appointed as assistant professor of human-computer interaction in empirical translation & interpreting studies. Their main affiliation is currently with the EQTIS research group, but they (luckily) remain affiliated with LT3.
Also in September, we had to say goodbye to Ayla, who is now a Tenure Track Assistant Professor Translation & Interpreting at KU Leuven - Campus KULAK Kortrijk.
Education
18 CALM students officially graduated on 21 September 2022!
This academic year, we are happy to train 15 CALM students and 14 incoming students from the EM-TTI program. Last fall semester, this program also enabled us to welcome two academic scholars: Alina Karakanta and Víctor M. Sánchez-Cartagena.
Outreach
In 2022 we also continued to spread information about language technology and machine translation to a broader audience:
Keep your eyes out for more in 2023, we are planning some exciting events and even a (Dutch) book on language technology!
New Resources
We added some new demos to our website: feel free to use the D-Terminer demo to automatically extract terms from a corpus and MATEO to automatically evaluate machine translations.
Other News
This year's summer teambuilding included a little bit of healthy competition: we had our own LT3 Office Olympics.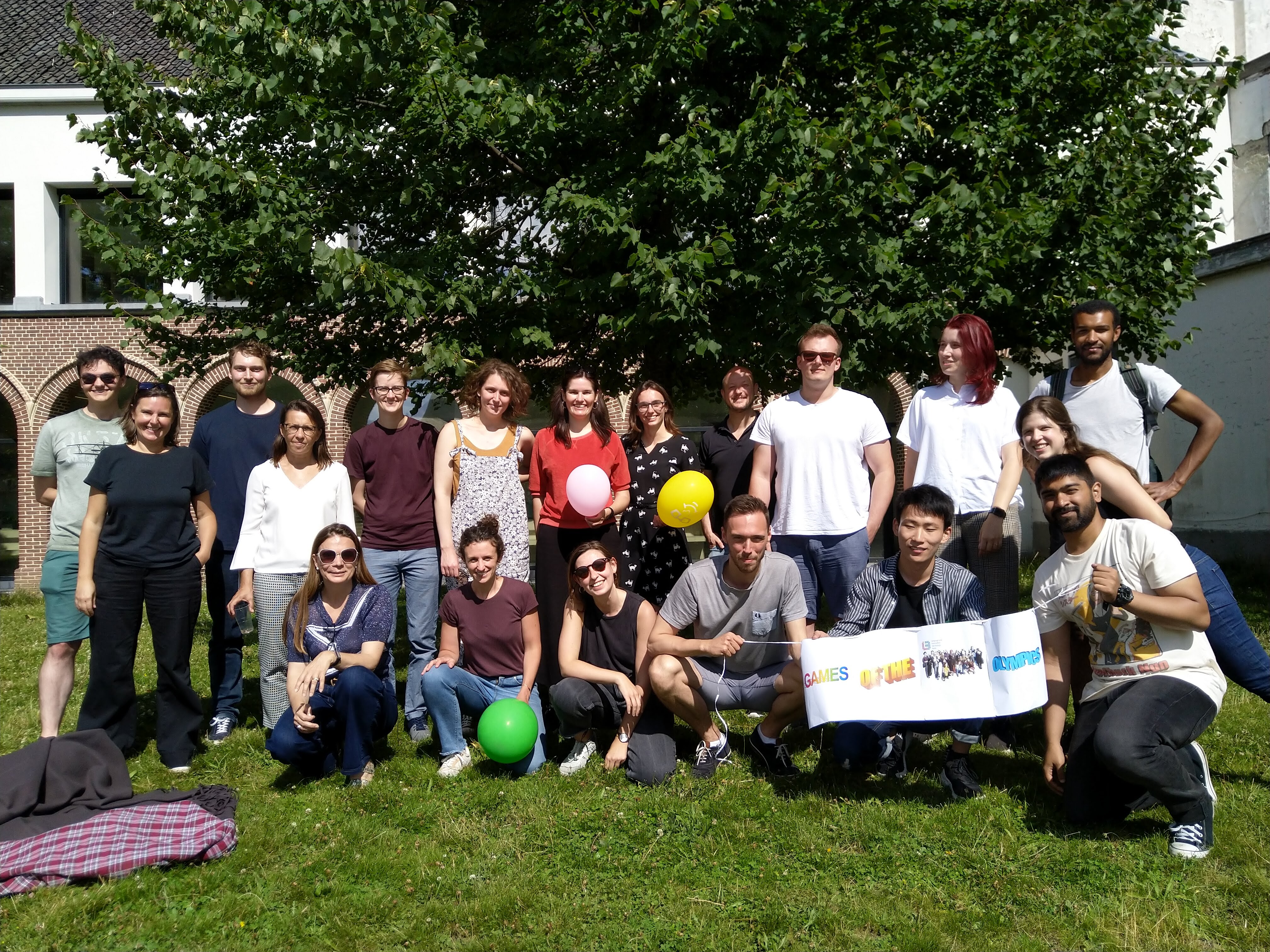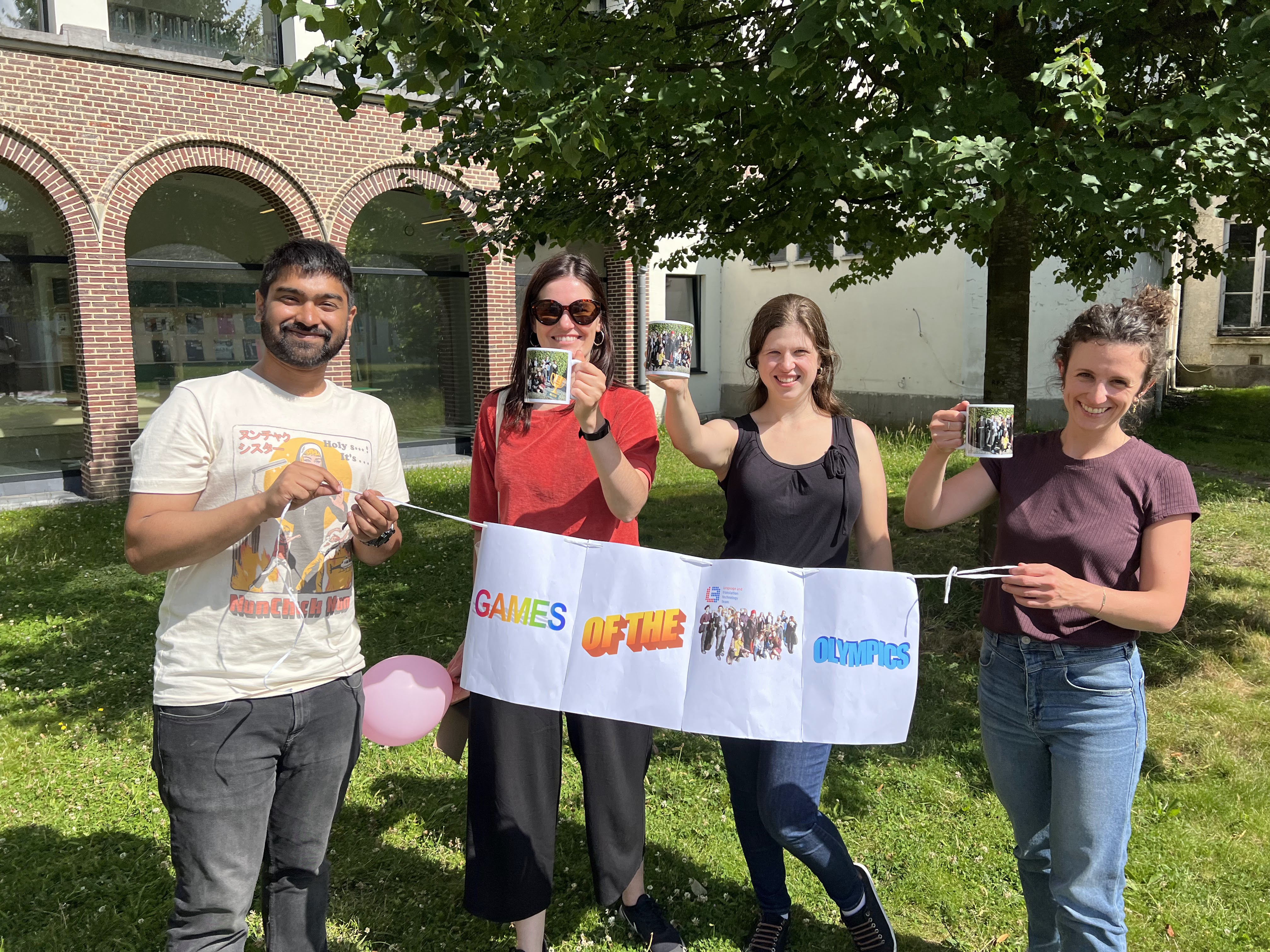 Unfortunaly, besides Ayla we also had to say goodbye to three other wonderful colleagues. We wish Gilles, Toon and Thierry all the best with their future endeavours! And finally, we want to congratulate Orphée and Joke for enriching the team with two beautiful babies, welcome to the world!
Here's to a wonderful 2023! We look forward to connect with you online (Facebook, Twitter, LinkedIn). Feel free to reach out to Prof. dr. Veronique Hoste for further information, questions and comments.